Photo Gallery


Did You Know Publishing, Inc. & Woven Traditions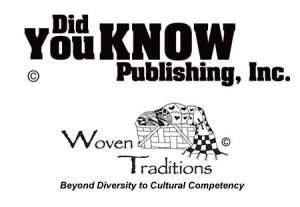 We are honored that our educational tools and support has touched so many, helping to instill Cultural Competence into our schools, workplaces and communities. Below you will find some snapshots of our program in motions – real people, real events that are sure to help make our world a better place.
Check out our photo gallery below by clicking upon the thumbnail image, which will open the picture in it's larger form. We encourage you to send in your own photos that highlight your unique culture. The more we educate on 21st Century Thinking and Cultural Competence, the better off we will all be in the future.
Contact us for more information by calling (513) 834-5349, or sending us an e-mail by clicking here…
---
Order Woven Traditions® Cultural Competence Tool Kit Today…
Learn how our Woven Traditions® Program can easily be integrated into: