Did You Know Publishing's Newly Upgraded and Improved
Web Site Adds Functionality and Mobile Friendliness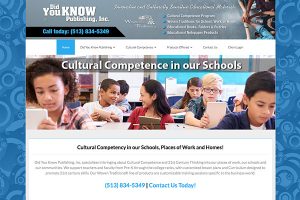 We are committed to providing proven solutions for embedding, instilling and sustaining cultural competency in schools, corporate and non-corporate workplaces and communities. We take every phase of our contact with our valued partners/customers to heart – which is why we are excited to announce the re-launching of our new, optimized web site!
This new site was designed with YOU in mind! We have improved to mobile friendliness, as well as added a new client download area – which houses the specifically designed publications and support tools to measure, chart, embed and sustain this work of Cultural Competency in schools, corporations and non-for profit organizations.
We hope you enjoy the new look and feel! We look forward to partnering with you as you continue to build your capacity for 21st Century and beyond thinking for generations to come.
Send us an e-mail, or feel free to contact us directly by calling (513) 834-5349…