Woven Traditions® Cultural Competence Tool Kit
Toward Cultural Proficiency | Cultural Competency for Higher Education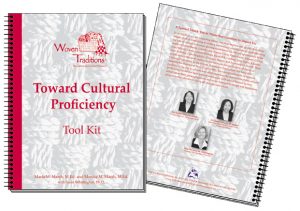 Featuring over 300 pages of exercises, activities, conversational topics and more, the Toward Cultural proficiency Tool Kit is designed to help college professors infuse their students with 21st Century Thinking. The program is completely interactive, and definitely NOT a lecture-style training tool. The kit promotes open dialog between students to allow them a chance to use their own personal experiences to help better understand the cultural competence concepts being covered.
The Woven Traditions Cultural Competence program has been a proven resource in developing 21st century skills, and has been adopted by The Ohio State University as a General Education REQUIREMENT for all incoming freshmen!
Contact us for more information by calling (513) 834-5349, or sending us an e-mail by clicking here…
---
Woven Traditions Cultural Competence Tool Kit ($109.99 each)