Lasting M Pressions Notebook Paper


Historic African American Images Imprinted on Each Sheet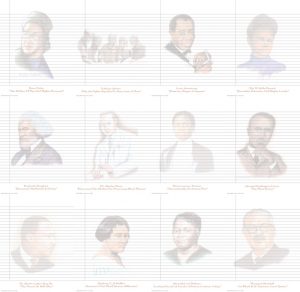 Creativity and history collide with Did You Know Publishing's line of Lasting M Pressions paper products!
Kids can select from a variety of papers watermarked with famous African American images on each sheet. These informative and colorful papers are perfect for school projects, announcements, flyers and more. The watermark still allows for the written words to be read clearly and legibly, while adding some color and fun to any masterpiece.
Notebook Paper for school is available with 3-holes punched to fit most standard binders, as well as offering wide lines for writing your reports or assignments. (50 sheets per pack)
Make your next assignment catch the teacher's eye, or put a smile on the face of the recipient of your letter with the Lasting M Pressions line of paper products today!
Contact us for more information by calling (513) 834-5349, or sending us an e-mail by clicking here…
---
Order Packs of Lasting M Pression Notebook Paper (50 sheets per pack):

3-Pack Lasting M Pression Notebook Paper ($19.91 includes shipping & handling)

---
6-Pack Lasting M Pression Notebook Paper ($33.84 includes shipping & handling)

---
9-Pack Lasting M Pression Notebook Paper ($48.55 includes shipping & handling)

---
12-Pack Lasting M Pression Notebook Paper ($62.28 includes shipping & handling)

---
15-Pack Lasting M Pression Notebook Paper ($77.10 includes shipping & handling)

---
18-Pack Lasting M Pression Notebook Paper ($86.77 includes shipping & handling)

---
21-Pack Lasting M Pression Notebook Paper ($98.74 includes shipping & handling)

---
24-Pack Lasting M Pression Notebook Paper ($110.71 includes shipping & handling)

Contact us when ordering of more than 24 per set…
---